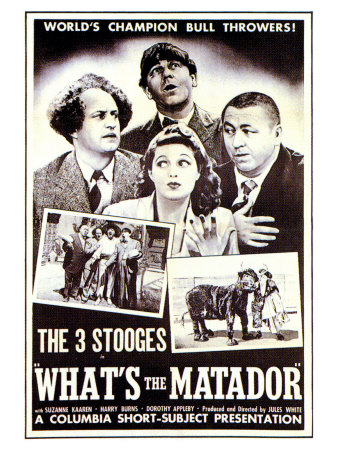 What's the Matador?
is the 62nd short subject starring American slapstick comedy team the
Three Stooges
. The trio made a total of 190 shorts for Columbia Pictures between 1934 and 1959.
Its title is a pun on the question "what's the matter?" The film itself was inspired by the popularity of the 1941 film Blood and Sand Bullfighting is the reference, the two stories otherwise have nothing in common. The short would be reworked in 1959 as Sappy Bull Fighters, using minimal stock footage from the original.
The Stooges are vaudeville entertainers who trek to Mexico to perform their gag bull fight shtick, with Curly as the brave matador, and Moe and Larry dressed in a bull costume. Along the way, they cross paths with attractive senorita Dolores Sanchez (Suzanne Kaaren). They also cross paths with her evil jealous and hot-tempered man-hating husband named José (Harry Burns). In an act of revenge on Curly for flirting with Dolores, José pays the bullring attendants to release a live bull into the ring. Moe and Larry flee the ring,. Moe and Larry flee the ring, but Curly is unaware of the switch. He eventually head-butts the wild animal, and is paraded out of the ring to the rousing cheers of "Olé, Americano!"
Moe: "Haunt that house!"
Curly: "How many rooms?"
Moe: "Seven."
Curly: "With bath?"
Moe: "Go on!" [slap!]
References
Edit
Solomon, Jon. (2002) The Complete Three Stooges: The Official Filmography and Three Stooges Companion, p. 209; Comedy III Productions, Inc., ISBN 0-9711868-0-4
Ad blocker interference detected!
Wikia is a free-to-use site that makes money from advertising. We have a modified experience for viewers using ad blockers

Wikia is not accessible if you've made further modifications. Remove the custom ad blocker rule(s) and the page will load as expected.